Improve the Storefront or Forecourt of Your C-Store, Gas Station or Retail Store
Elevate the appearance, safety and sales of convenience store, gas station, truck stops, car washes and retail storefronts and forecourts with the Post Guard® Series bollard covers, Tahiti Windshield Service Centers and PolyTec™ merchandisers from the site furnishing experts at Commercial Zone®.
Post Guard Series bollard covers offer an inexpensive, maintenance-free solution for chipped, unattractive bollards. Bollard covers create an attractive safe perimeter around objects and buildings.
PolyTec merchandisers can drive seasonal and outdoor sales by creating a fast, easy path to purchase when used in front-of-store. For back-of-store, merchandisers can keep perishables safely off the ground preventing contamination, comply with health and safety codes and prevent tripping hazards.
Tahiti Windshield Service Centers are designed to keep the pump island clear and windshields clean. This all-in-one solution includes a built-in paper towel dispenser, windshield fluid bucket, squeegee storage and an optional trash receptacle.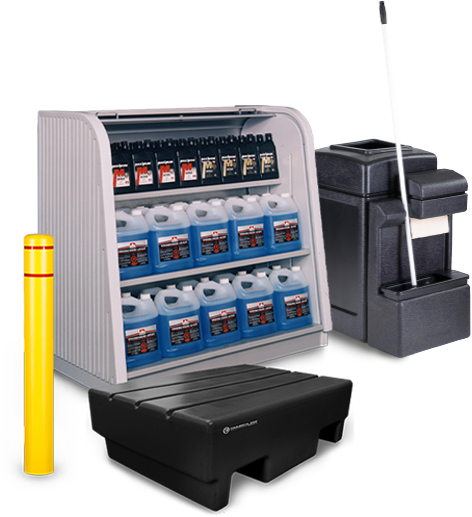 Find Solutions That Are Right For Your Store
Browse Additional Storefront & Forecourt Products From Commercial Zone
Elevate Your C-store & Fuel Site With Brand Programs From Commercial Zone
Our brand programs are trusted by big-name brands like…



Learn more about personalization and customization or
receive a personalized quote by contacting Sandi Dzirbik: sdzirbik@cz-rss.com