December 9, 2019
Case-Study: Ace Hardware Wins With an Upscale Makeover
World's largest hardware cooperative debuts new open-concept, upscale store experience - with help from Commercial Zone.

The Client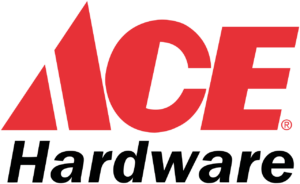 Ace Hardware is the largest retailer-owned hardware cooperative in the world, with more than 5,300 locally owned and operated stores in 70 countries.1 Owners are entrepreneurs in their communities, with stores that come in all shapes and sizes. Ace aims to make the most of its unique hometown appeal by providing more personalized, neighborly service and offering more unique products than big-box stores or smaller competitors.
The Challenge
Like many retailers, Ace is working to improve its customer experience to compete in a changing retail landscape where store appearance is increasingly important. According to a Morpace Omnibus report2, more than half of those surveyed said they'd avoid a store that looked dirty from the outside, and two-thirds said they would shop elsewhere if they didn't like the way a store looked.
While consumers increasingly prefer a more upscale appearance, Ace also wanted to ensure that its stores were aligned with the company's neighborhood-friendly aesthetic. In particular, they wanted to improve the front entrance space, an area that had become an eyesore and lacked consistency at many store locations.
The Solution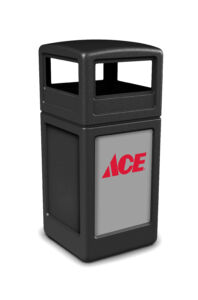 The company began a large-scale store remodel project, featuring a new open-concept layout designed to deliver an upscale, branded appearance with neighborhood appeal. Ace turned to Commercial Zone to help determine the right waste solution to fit its new in-store design. Commercial Zone proposed several different concepts to meet Ace's goals and budget for the project. The company selected Commercial Zone's 42-gallon black dome-lid receptacle, with a custom Ace logo to complete the look.
"Our dome-lid container with the Ace logo works really well as part of the store's new open-concept design," says Sandi Dzirbik, Director of Sales at Commercial Zone. "It was a great way to help modernize their entrance space, while contributing to the upscale, branded appearance Ace was looking for."
The Results
The new waste receptacle has been extremely well received by store owners, who say it improves their front entrance look and enhances the modern aesthetic of the remodeled stores. To help sell the idea to owners, Ace showcased a mini version of the new store layout – including the trash receptacle – at its two annual tradeshows. At Ace's most recent show, owners ordered more than 100 new containers, exceeding both companies' expectations.
And the icing on the cake? This partnership worked so well, Ace has now become an official Commercial Zone distributor.
"This project is a great example of how we worked together to meet Ace's business need, and through that success we added a valuable distributor partner as well," says Dzirbik. "We're thrilled about this expansion of our relationship, and with Ace's new capability to resell our products to local businesses."
Looking to evaluate your trash container options to create a lasting impression for your customers? Contact us today to find an option that's right for you.
1Source: Acehardware.com
2Source: Retail Customer Experience