January 21, 2020
Case-Study: Red Roof Gets an Exterior Upgrade with a Boost of Color
Hotel brand embarks on an outdoor refresh with three new on-brand exterior furnishings from Commercial Zone.

The Client

Red Roof® has more than 580 hotel properties in the U.S., Brazil and Japan, ranging from economy to midscale. Recently the company acquired several additional properties to expand its portfolio, and currently owns four brands: Red Roof Inn®, Red Roof PLUS+®, HomeTowne Studios by Red Roof and The Red Collection®. Red Roof aims to offer guests a consistent, high quality and pet-friendly hotel experience at an affordable price.
The Challenge
The company's expansion has underscored the need for a strong and consistent brand identity across all its locations. Red Roof's challenge was two-fold: they needed to maintain a distinctive look for each of their brands, and they also had to upgrade the appearance of many properties that had outdated or subpar furnishings. And in the crowded mid-economy hotel sector, Red Roof understood that a modern design aesthetic would help attract new consumers who increasingly prefer a more upscale appearance.
The Solution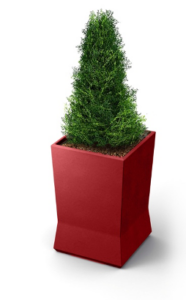 Red Roof initially reached out to Commercial Zone after seeing a red planter at a tradeshow. That initial interest sparked a partnership that would eventually lead to a custom planter and two new stock fixture items for two of the company's hotel brands.
Commercial Zone worked with Red Roof to identify a stock Smoker's Outpost and outdoor bench that featured the sleek design the company had been looking for. They also developed a custom planter that offers a pop of on-brand color in Red Roof's signature red. This new suite of furnishings gives Red Roof an affordable way to enhance the exterior appearance of their properties while offering a cohesive and modern aesthetic.
"The on-brand look and feel was really important to Red Roof, because they didn't have that with their current products," says Chris Mileusnich, Hospitality Sales Manager at Commercial Zone. "We also used color to both enhance their overall look and reinforce their brand."
The Results
Commercial Zone debuted the three new furnishings at a recent Red Roof convention and got rave reviews from attendees. The company was so impressed with the look of the planter that they've mandated its use at Red Roof Plus properties. The process of educating distributors who sell the products to their 580 properties is currently underway. In addition, the three fixtures are now included as options in Red Roof's spec book.
"This is our first brand program with Red Roof, and we're excited that the door has been opened for a deeper partnership," says Mileusnich. "We were able to collaborate on a process to ensure a successful brand roll-out across the organization."
Looking to evaluate your site furnishing options to create a lasting impression for your customers? Contact us today to find an option that's right for you.