October 10, 2023
4 Best Practices for Long-Lasting Trash Receptacles
Keep your trash and recycling receptacles looking (and performing) great by following these four tips.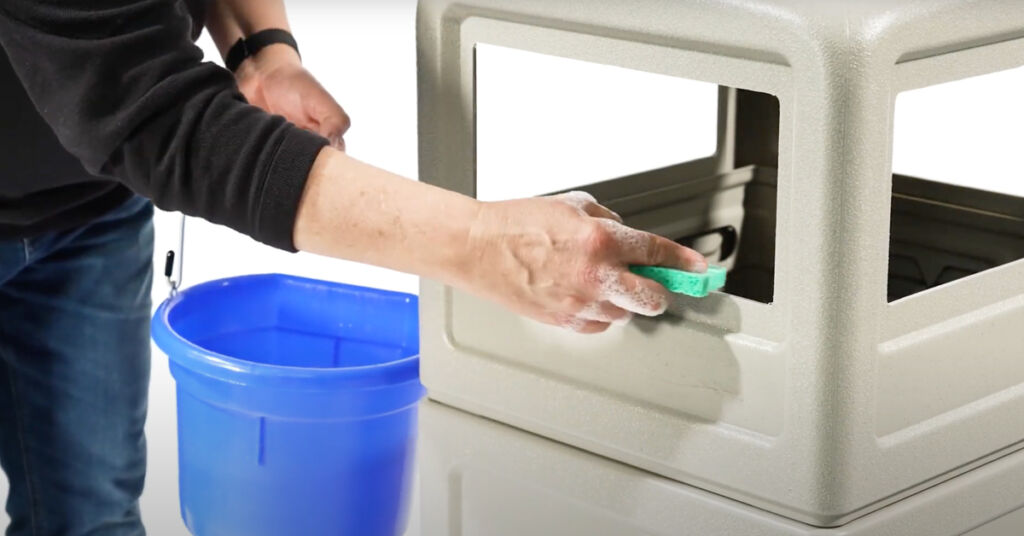 Trash receptacles are a business's first defense against unsightly litter. And while these site furnishings are durable and hardworking, they are also susceptible to wear and tear over time. Keep your trash and recycling receptacles looking (and performing) great by following these four tips.
1. Start by Choosing a High-Quality Receptacle
A well-constructed trash or recycling receptacle made from durable materials will outlast the low-cost options every time. What material is best for a receptacle is heavily based on the location it is placed. Strong materials like stone or polyethylene can withstand harsh weather and outdoor conditions while sleek stainless steel can elevate indoor spaces. By choosing a high-quality receptacle crafted using the right materials, businesses in industries like retail, hospitality and food service can ensure they are investing in a receptacle that is built to last.
2. Create (and Maintain) A Regular Cleaning Schedule
Don't let receptacle cleaning and maintenance go by the wayside. By creating a clear, easy-to-follow maintenance schedule, businesses can ensure regular cleaning, emptying and inspection remains on staff members' radar. Overfilling trash or recycling receptacles can lead to odor, lid damage and trash blowing from receptacles, which leads to an unpleasant customer experience.
After emptying, wipe down your receptacles using a cloth and disinfectant—both inside and out—your business can help prevent lasting odors, corrosion, rust and other types of damage. Here are some quick maintenance tips.
3. Inspect Often for Damage
Trash can be dirty, stinky and/or sticky. As customers toss items, they can leave behind grime and unpleasant odors and even damage receptacles. Regularly inspecting your receptacles for cracks, rust or damage can help businesses identify and fix receptacles before they become broken beyond repair.
Avoid overflowing and keep trash bags in place using the Grab Bag system available on receptacles like our PolyTec™ Series. The Grab Bag™ System not only improves the curb appeal of your business by hiding unsightly trash bags, but it also can prevent these bags from falling and spilling their contents inside of receptacles, which over time can lead to odor and damage.
4. Install Anchors, Security Cables
This is a step you can't afford to skip! You invested in a high-quality trash receptacle. Now make sure it doesn't run away. Many receptacles come with optional security cables or anchors. An anchor can be used to secure a receptacle to the ground while a security cable attaches the lid to the receptacle body. Receptacles in a multi-stream waste and recycling set-up can also be anchored to each other to eliminate separation.
See how to install an anchor or security cable to our most durable receptacle ever, Parkview™ DualCoat.
Choose a high-quality receptacle made from tough materials (and backed by a customer care team that's there when you need them). Browse indoor and outdoor receptacles and other site furnishings to improve the curb appeal and customer experience for your retail location, convenience store, hotel, food service location and more. View our updated product catalog.