August 15, 2023
4 Tips to Keep Pests Out of Your Businesses Waste Receptacles
Follow these tips to keep your outdoor receptacles full of trash and free of pests.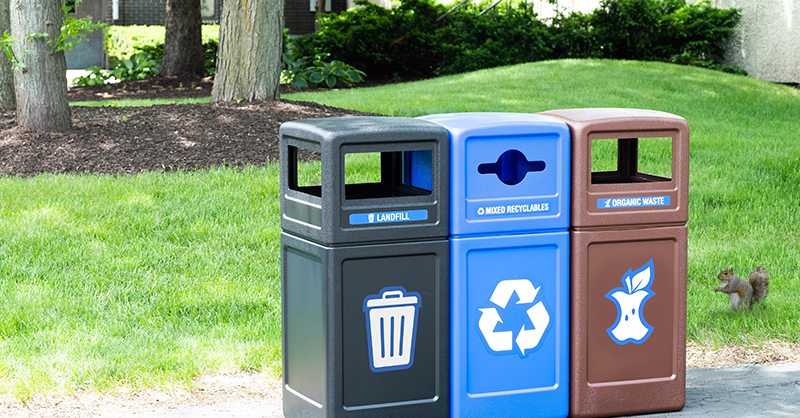 Having trash and recycling receptacles outside of your business is a great way to keep your site clean and prevent litter. Unfortunately, receptacles can often attract pests like mice, squirrels, crows and more. When customers see these pests picking through the trash, it can have a negative effect on their perception of your business. Follow these four tips to keep trash in (and pests out).
1. Choose a Receptacle with a Lid
The harder trash is to reach, the less likely it is that pests will gravitate toward it. Choose a high-quality receptacle like our PolyTec™ Series that includes a secure lid. By choosing a receptacle with a lid, you can make the opening for pests less appealing.
2. Schedule Regular Receptacle Maintenance
Clean receptacles are more inviting to customers and less inviting to pests. Perform routine cleanings and maintenance by wiping down the interior and exterior of receptacles. Give your receptacles a once-over during cleaning and make note of any cracks or holes in the receptacle or its lid that may need repairs or replacement.
3. Separate Streams like Trash, Recycling & Compost
Food scraps can be smelly (and very appealing to pests). To keep pests at bay, separate out your businesses trash, recycling and compost by adopting a multi-stream waste and recycling program. Not only does this prevent smells and pests but it helps the environment too!
4. Work with Staff & Neighboring Businesses
Creating and maintaining a pest-free business is a group effort. Make sure staff is on the same page and understands the importance of sticking to a maintenance schedule and encouraging proper disposal with customers. At the same time, maintain a united front with other nearby business with dumpsters or receptacles. When pests can't find scraps, they will often move onto a different location.
Choosing the right receptacles for your business' outdoor needs can help prevent pests and improve customer perception. Commercial Zone offers a full line of trash and recycling receptacles, multi-stream set-ups and personalized products. Visit our website or call 800-782-7273 to speak to one of our industry experts today.