May 12, 2023
4 Considerations When Choosing Receptacles for Hotels
What factors must hotel managers consider when upgrading their fleet? Here are four aspects to consider.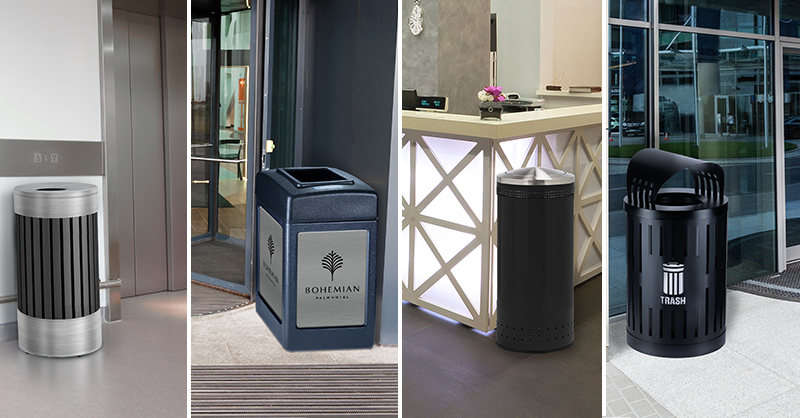 By: Brooke Pertner
Selecting or upgrading your hotel's trash and recycling receptacles may seem like a small decision—but it can have a huge impact. The right receptacles contribute to the overall perception and cleanliness of hotels. And cleanliness is the second most important deciding factor when choosing a hotel (after price). So, what factors must hotel managers consider when upgrading their fleet? Here are four aspects to consider.
Receptacle Placement
First, it's important to understand where receptacles are needed. Common locations for trash and recycling include in the lobby, hallways, near elevators and outside of exits. Not every placement will necessarily require the same size, style or type of receptacle. If you notice an accumulation of litter, this is often an indication that more receptacles are necessary or that placements should be adjusted.
Receptacle Size
Once you understand the locations, perform a trash audit to understand the amount of trash and recycling that is produced by your hotel. If a receptacle is too small, it will need to be emptied frequently to avoid overflowing. If it's too large, it might take up more space than is needed. The amount of waste produced in some areas of the hotel (like the breakfast nook) may be more than in others (like in-room waste receptacles).
Receptacle Style
It's not all about function. Choose receptacles that complement other stylistic choices made through the hotel. Should your new receptacles be made of plastic? Stainless steel? Wood? Then weigh these materials against other important factors like durability, ease of cleaning, emptying and location.
Receptacle Branding
Set your hotel apart from the competition by elevating and promoting your brand using your receptacles. Choose from different levels of personalization and customization ranging from various colors to custom panels with your logo. Always remember the rule of seven: a brand's message needs to be viewed at least seven times before it can be fully retained.
From the lobby to guest rooms, find waste and recycling receptacles your hotel needs to maintain a clean environment while elevating the stay of guests. Commercial Zone offers a full line of commercial-grade trash and recycling containers including personalized products. Hotel owners can create custom-branded receptacles with a choice of custom decals or backplates. Commercial Zone also offers complete custom products designed and tailored just for you and your business. Visit our website or call 800-782-7273 to speak to one of our industry experts today.